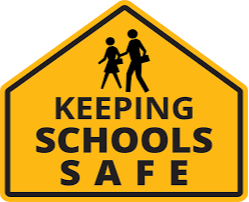 The safety of our students and staff is our top priority. Each of our campuses is staffed with a full-time SRO. In addition, some of our school staff have volunteered to undergo intensive training under the Polk County Reserve Deputy Program, which authorizes them to carry a firearm on campus. These staff members are trained by the local sheriff's department. It is district policy that all interior and exterior doors remain locked.
This year we completed a new, innovative door security system. The system features a visitor management system and door access controls. Main entrances are badge-controlled, and visitors must press a button to gain entry to the building. The visitor management system scans a visitor's driver's license and conducts a child safety background check on site before printing an authorized sticker badge. Main doors that are propped open will sound an alarm so staff can shut the door. Any instance of an unlocked or a propped door is investigated by the building administration and addressed accordingly. Administration and local authorities conduct door-lock checks randomly throughout the year.
We are committed to the safety of our students and staff and are regularly monitoring our procedures to ensure we are maximizing our safety procedures.