Mena Art Gallery is hosting an art show for our K-12 artists! The reception for this show is Saturday, January 28th from 1-3 p.m. Awards are announced and prizes given at 2 P.M. Artists from CRES receiving awards: Joslyn Watkins 3rd in sculpture Jenna Trinidad 1st in drawing Artists from CRPS receiving awards: Isabel Gomez 1st in painting Magaly Solgado honorable mention in drawing The show will be up until mid February. Pictures to follow!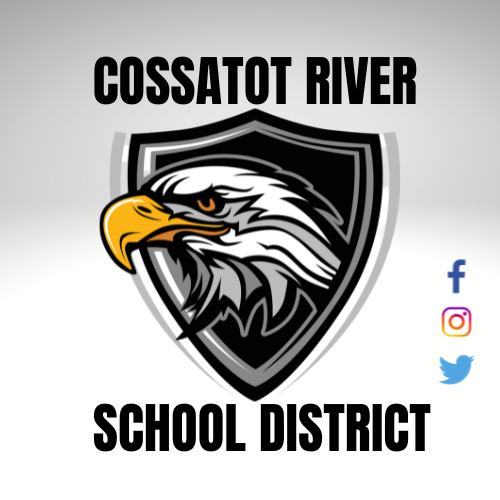 The CRHS basketball games originally scheduled for January 31 against Cedarville have been moved to January 30 due to the threat of inclement weather in the Cedarville area. This does not affect the school day.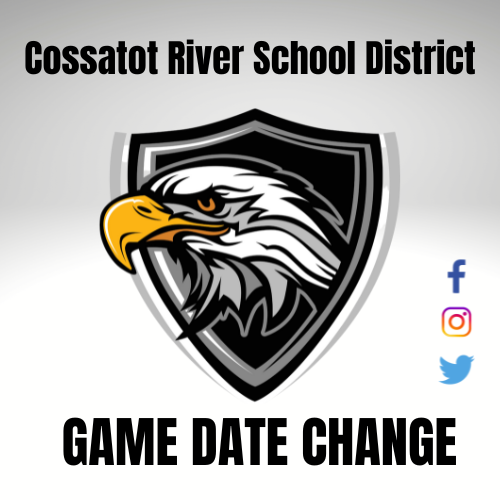 JR High Quiz Bowl represented CRHS at the Murfreesboro Invitational! We are proud of you!

Our 3rd grade students loved using geoboards to work on area and perimeter!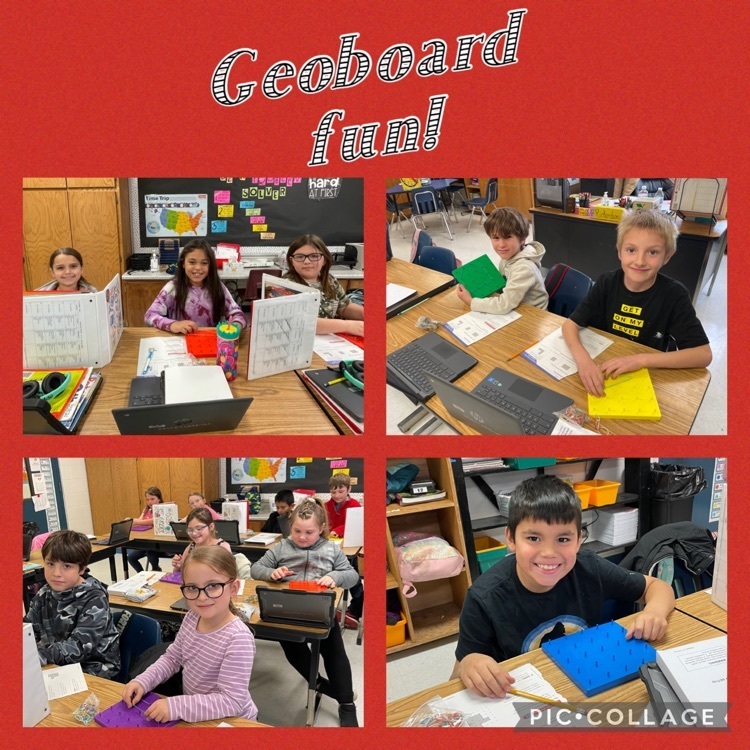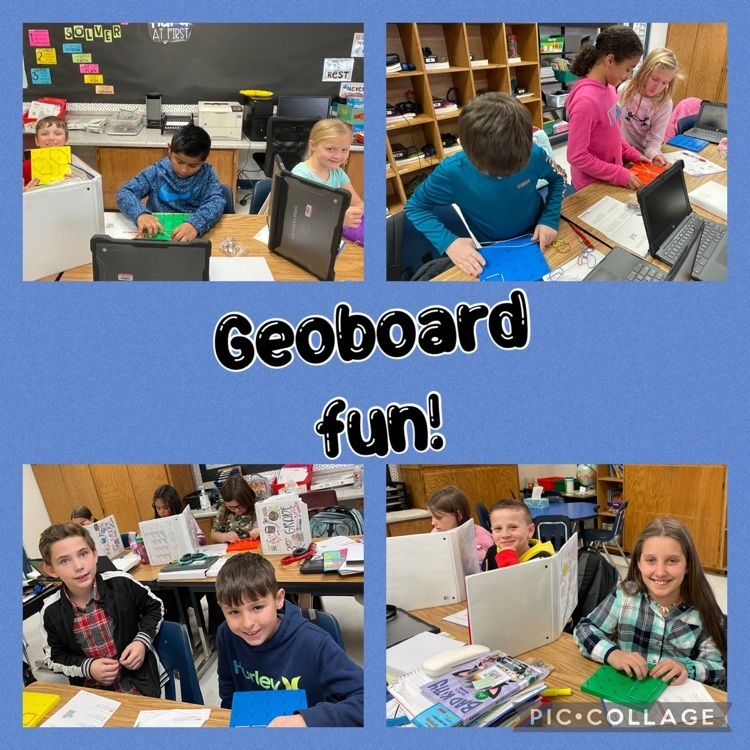 Players of the Week! Sr boys; Jan 3-6 Landon Phillips, Jan 10-13 Braylen Ralls, Jan 17-20 Austin Bailey. Sr girls; week of Jan 3-6 Jayden Johnson, Jan 10-13 Dani Atchley, Jan 17-20 Landrey Richardson. Thank you to our sponsors Tyson, Union Bank, Scotty's, The Coffee Vault, Miller's Paint & Body LLC, Cove Supply Inc, TJ's Country Store, Chris Frachiseur Poultry Cake Out, Jerry & Cathi Watkins, The Family of Rachel Norman.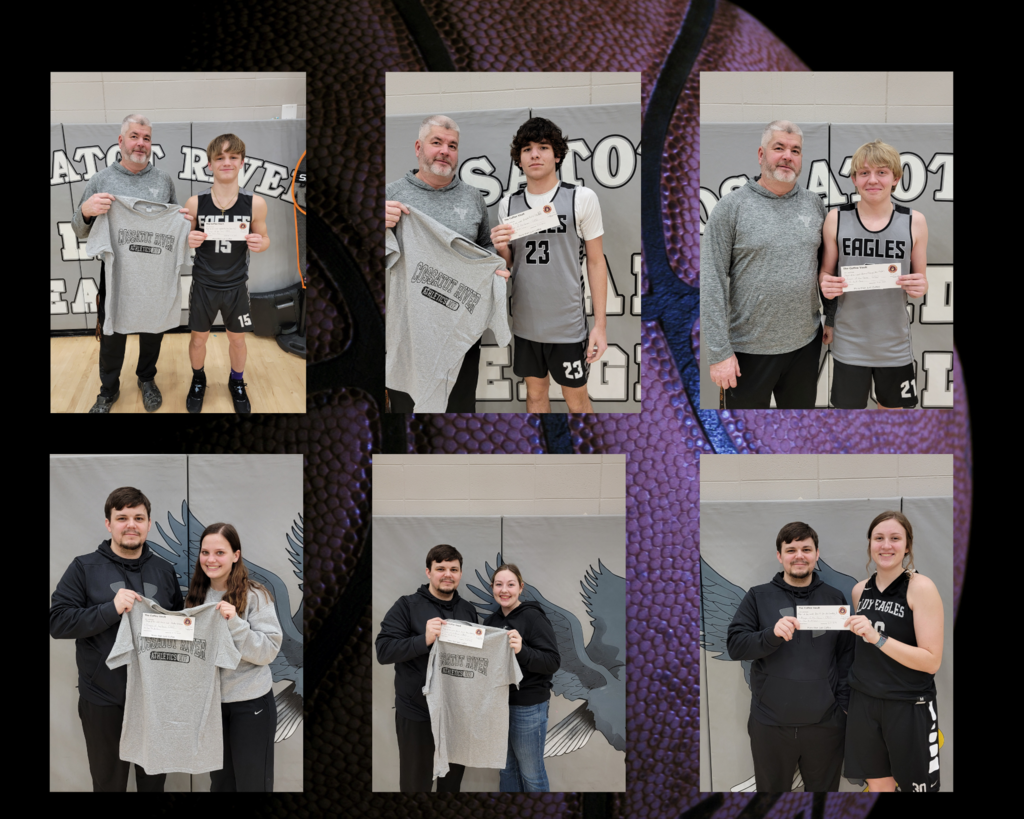 GAME UPDATE: The 7th-grade tournament this Saturday at Paris has been cancelled. We are told there were too many teams that were not able to make it because of makeup games due to the recent weather.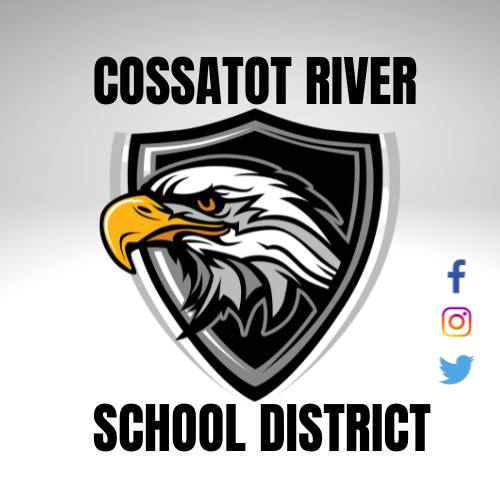 Access the link below for the CRHS JR high football signup form. This is for this year's 6th - 8th graders to form the 7th - 9th team this coming school year. Forms were sent home in 6th grade folders earlier this week, and the CRHS office has the forms available also. Our volleyball coach comes on staff this summer, so more information about volleyball will come soon. We will offer both JR high and SR high volleyball next year! JR High Football Sign Up Form
https://bit.ly/3XzXimt
Football & Volleyball Updated Information
https://bit.ly/3WHz74c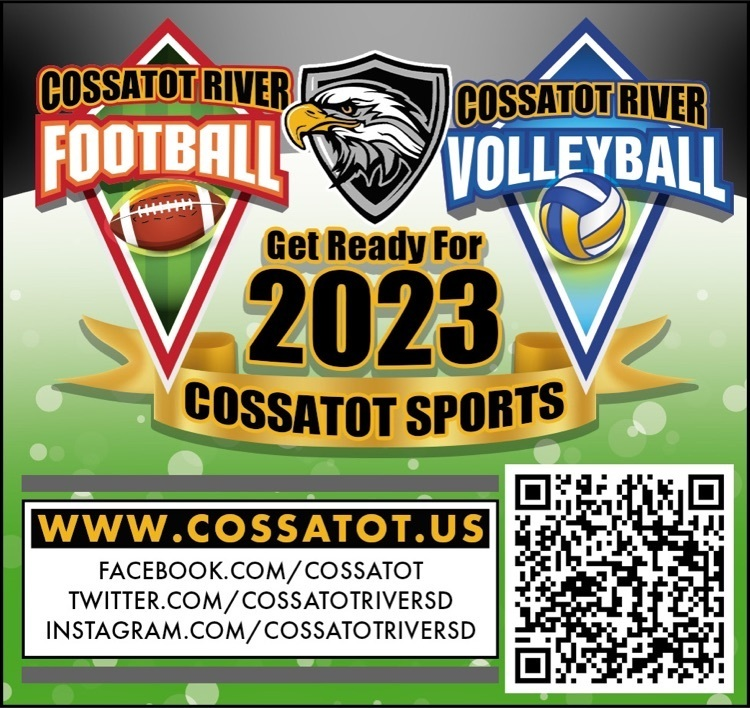 Umpire School - Cossatot River School District would like to congratulate Jonathan Dominguez for being nominated as the Howard County Farm Bureau Agri Student of the Month for December. Jonathan is a 10th grader at Umpire High School. He is active in Agri Science, likes to weld, and is a member of the Umpire High School Archery team. Jonathan attended the Howard County Farm Bureau Meeting on January 24th where he received his certificate and was recognized by members of Howard County Farm Bureau. Congratulations, Jonathan. We are proud of you.

Check this out tonight at the CRHS cafeteria at 6:00 p.m.! JR high students and parents are also welcome to attend!

All CRSD campuses will be closed tomorrow, Wednesday, January 25 in anticipation of winter weather moving into North Polk County this evening mixing with already treacherous roadways in that area. The day will be AMI. Stay safe. Todos los campus de CRSD estarán cerrados mañana, miércoles 25 de enero, en previsión de que el clima invernal llegue al condado de North Polk esta noche y se mezcle con las carreteras ya traicioneras de esa zona. El día será AMI. Mantenerse a salvo.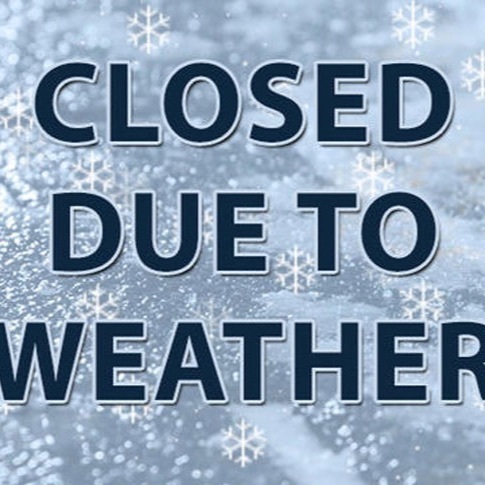 Congratulations to all our Cossatot River students who placed in the Polk County Spelling Bee!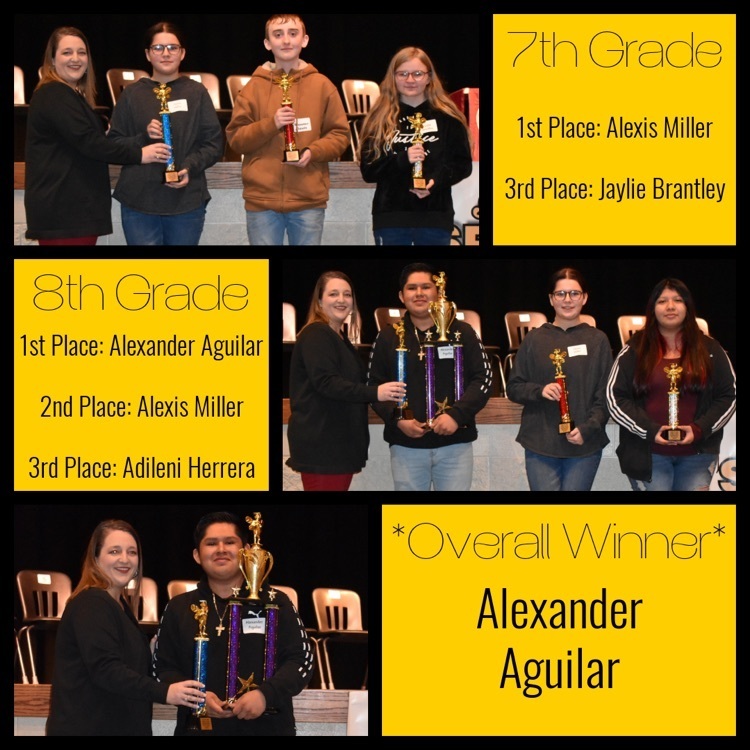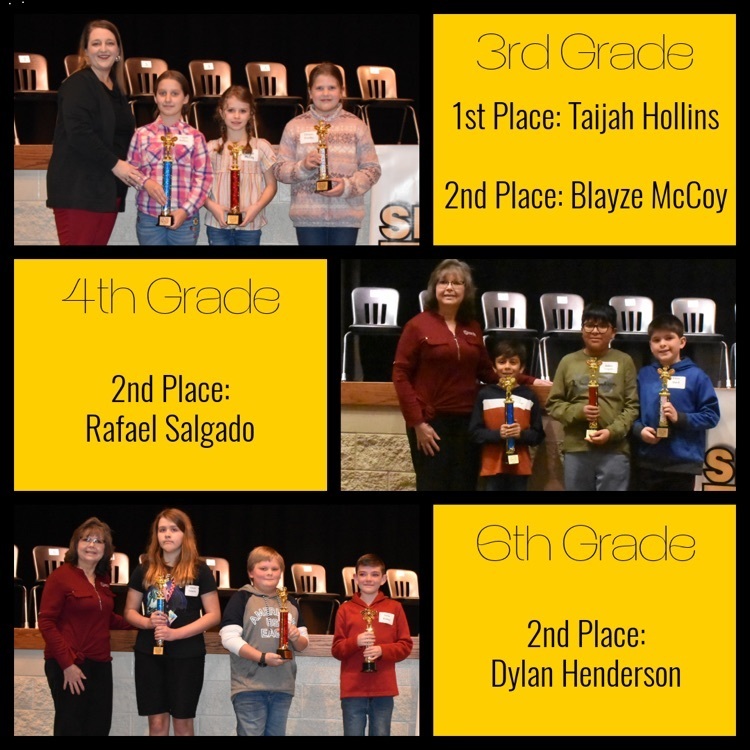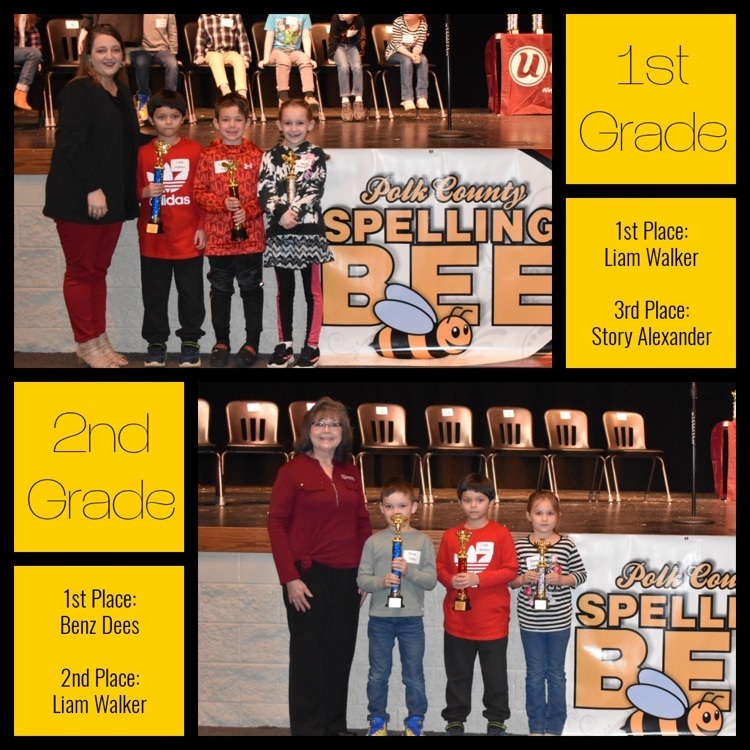 Umpire School will not have Archery practice today. We are sorry for the inconvenience.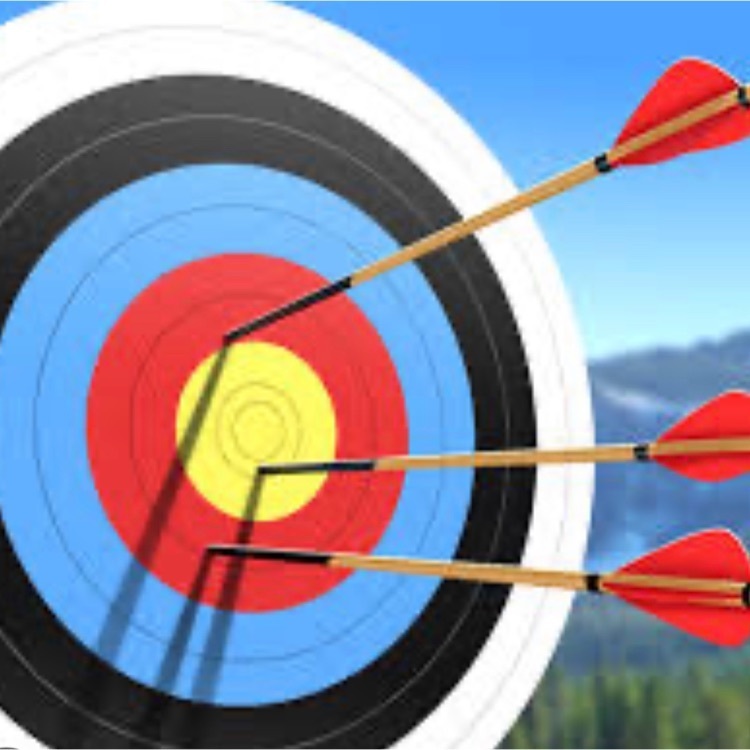 Umpire Elementary Perfect Attendance for Fall 2022. We are so proud of you! Jazmine Castillo, Jayson Dunson, Logan Dunson, Luz Garcia, Christopher Mendoza, Martin Salaises, Payton Sands, Trenton Sands and Aiden White.

All CRSD campuses will dismiss at 3:00 pm today due to inclement weather moving in much quicker than forecasted. Stay tuned for an announcement about tomorrow.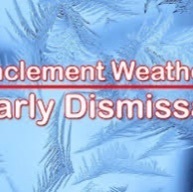 Are you interested in partnering with CRSD to advertise your business? With the addition of football and volleyball, along with new facilities for baseball, softball, soccer, and track, we have many opportunities for sponsorships both big and small! We value the relationship we have with our existing sponsors and businesses serving our areas. We are always searching for new ways to extend our business relationships and to acquire new ones. If you are interested in sponsoring in exchange for new and exciting advertisements, you can contact us at
tbroyles@cossatot.us
or by phone at (870) 385-7101. Thank you for the service to our communities!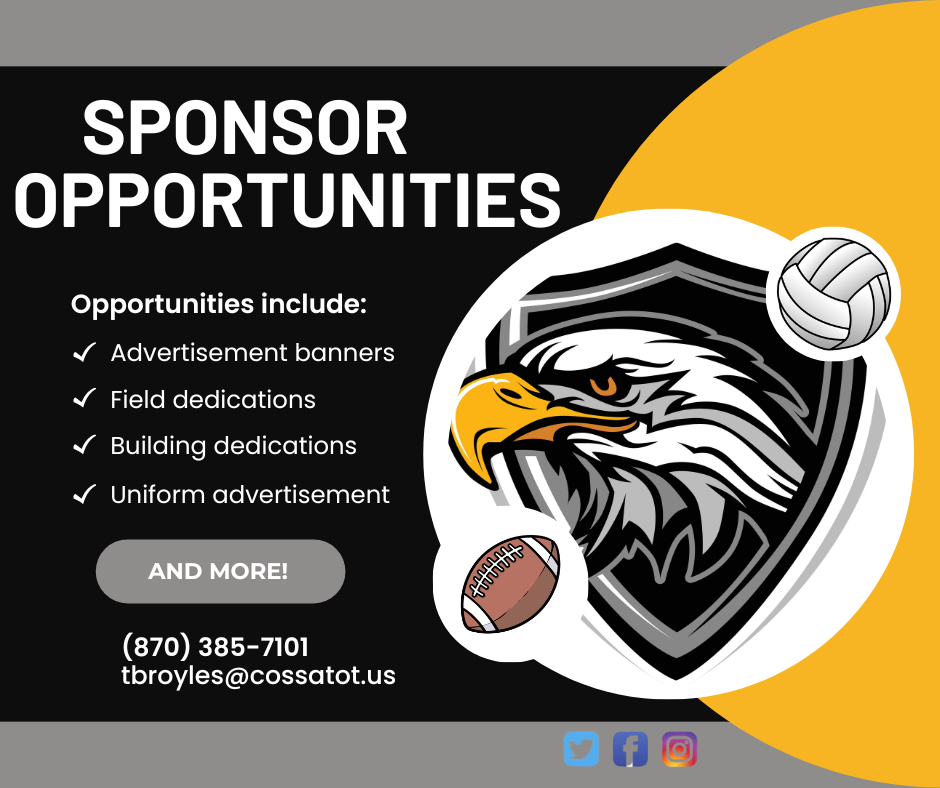 Cossatot River High School's Family, Career, and Community Leaders of America are looking to build their uniform closet. We are in search of donations of the following items: red, white, or black polos, black dress pants, black skirts, black sheath dresses, single strands of pearls, and closed toed shoes. All sizes for both females and males are appreciated. Monetary donations are also welcomed! Please contact Elizabeth Hoyle at CRHS or
ehoyle@cossatot.us
. We truly appreciate all that our community does for our students.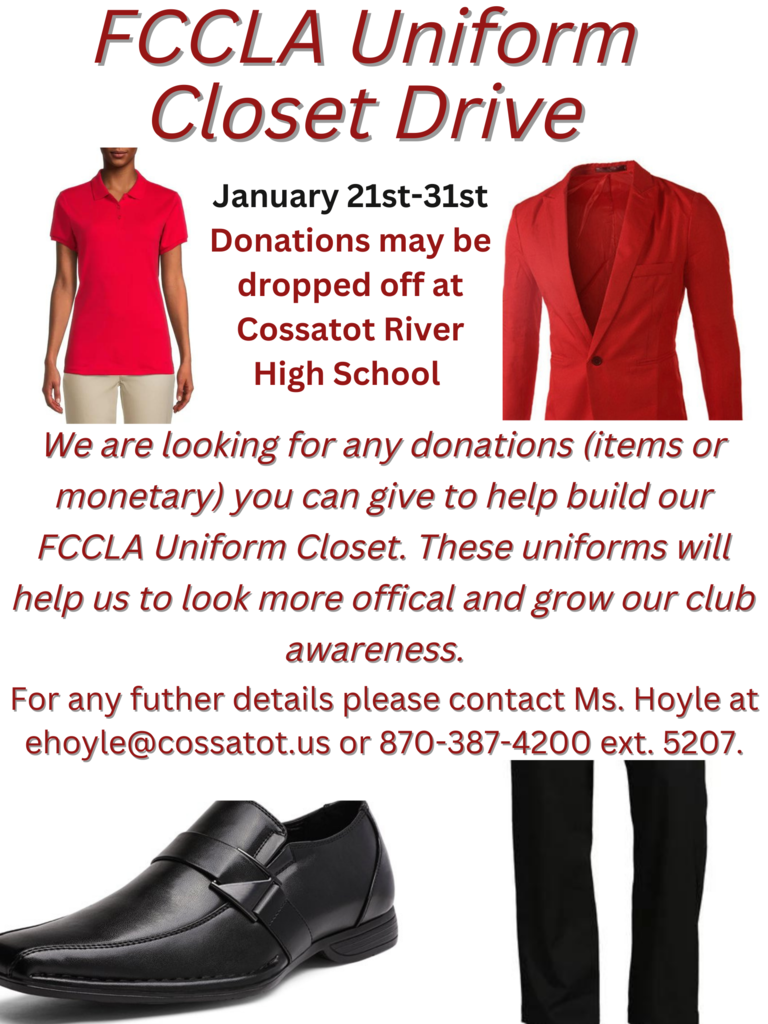 The forecast contains some potential for winter weather. The most severe chances are north of us. We will be monitoring the weather and will communicate using social media and our usual communication channels.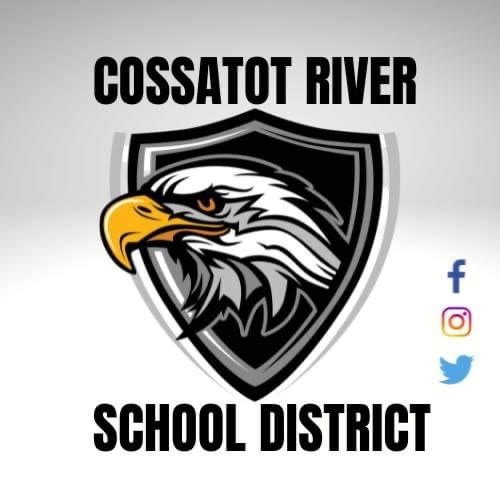 The Cossatot River Beat Bouncers performance has also been moved to February 1st with the games against Charleston!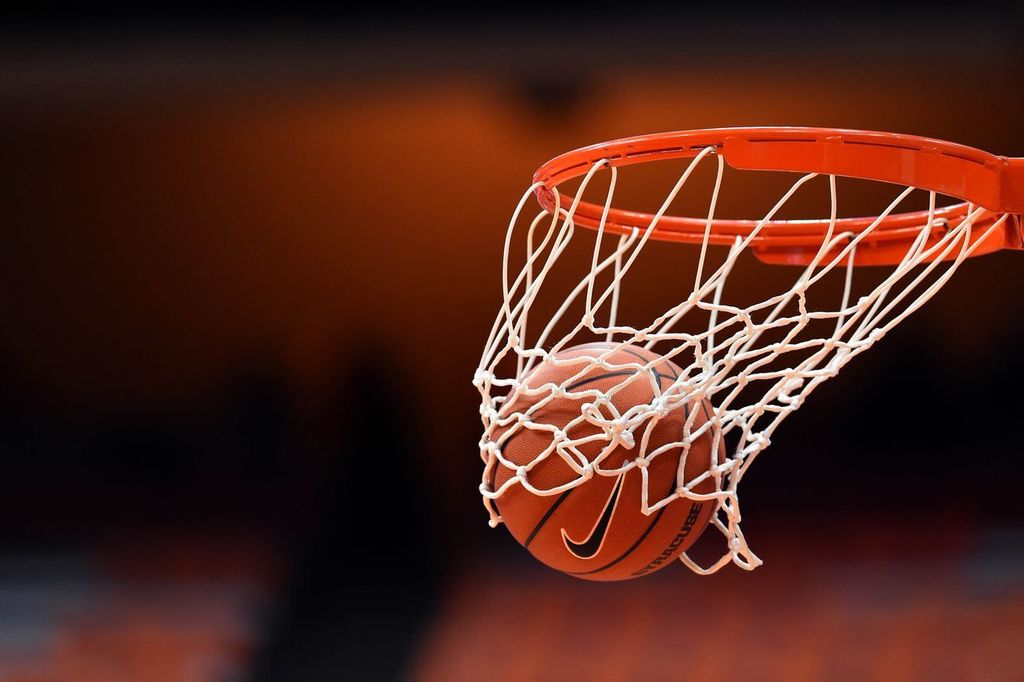 The CRHS basketball games (& Beat Bouncers Performance) against Charleston originally scheduled for tomorrow, January 24, have been moved to February 1 to accommodate expected winter weather in the Charleston area tomorrow evening. This does not affect the CRSD school day.